Developing forest landscapes for livelihoods and climate adaptation in Southwest Ethiopia
Forest landscapes – source of life
The last high forests of Southwest Ethiopia are particularly valuable key ecosystems: with their extremely diverse terrain ranging from plateaus at over 2,000 m to lowland plains at only 400 m altitude they provide habitats for many specialised animals, plants and other species and play an essential role as water reservoirs. Moreover, with a high volume of rainfall and rich soils, the diverse forest landscapes are among the country's most abundant in food.
In Ethiopia, forest degradation and reduction is a serious obstacle to the eradication of poverty and hunger and the preservation of biodiversity. Likewise, forests in the Southwest also have been degraded and reduced in their original size and connectivity. This led to isolated forest patches preventing gene flow and reducing ecosystem services and the general gene pool of the forest's flora and fauna. This in turn increases the vulnerability of forests and a two million population of forest-dependent communities. Consequently, forests urgently need to be stabilised, community-based restoration has to be initiated and income schemes for the local communities should be developed.
NABU has therefore set up a project in partnership with NABU Ethiopia and Ethio Wetlands and Natural Resources Association (EWNRA) from 2020 to 2023.
Southwest Forest Alliance (SWFA)
In order to preserve the forests of Southwest Ethiopia it is important to bring different stakeholders together and act as a unit. The Southwest Forest Alliance is a platform to ensure networking and exchange where the members find synergies and joint solutions for forest landscape restoration measures.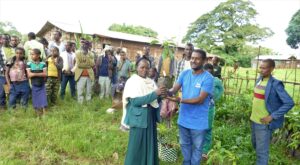 Additional and diversified means of income for forest communities are in most cases a requirement...
The project is working with Bench-Sheko Zone, Kafa Biosphere Reserve and Sheka Forest Biosphere Reserve, all situated in the South West Ethiopia Peoples' Region (SWEPR).